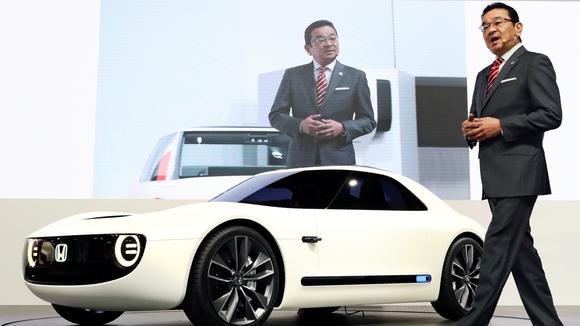 Electric cars still lack behind gas-powered cars in several things, one of which is charging time that takes much more time than a traditional car. On average, it's around 30 minutes. Honda says its own electric car will be able to cut down this time to half by 2022.
By this time, as Nikkei reports, Japanese company says its own model will be able to recharge to 80 % capacity in 15 minutes, while the car will have a range of 150 miles (240 km).
How is it possible? The key thing will be new high-capacity batteries that can be able of ultra-quick charging. The company says it will collaborate on a new type of battery with an unnamed provider. Their electric vehicle will also have a lighter body and more efficient power control system to increase driving range. Price and other specs have not been specified.
In present, Japanese type of charger is able of output of 150 kW. In 2020, this should increase to 350 kW. Same plans are for the European type of charger.
Thanks to this new technology, Honda predicts electric vehicles will be more attractive to the wider public. As Slash Gear reports, EVs should have around 4,6 % market share of the total auto market in 2035. That is far more than current 0,1 %.
Even if Honda will decrease the charging time down to 15 minutes, the range of the car is nothing special. For example, Toyota is preparing its own electric model which should have a range of 1000 km. Also, current price affordable electric cars offer significant range, such as Tesla Model 3 (350 km), Nissan Leaf (378 km) or Chevrolet Bolt (383 km). Keep in mind that current charging time of Model 3 up to 210 km is 30 minutes.
So if Honda really wants to penetrate the electric car market, it's risky to tell if betting on short charging time is enough to convince potential customers.
source of featured image: nikkei.com
Author: Ing. Petr Štěpánek, Chief Editor, Future Media Production, s.r.o.