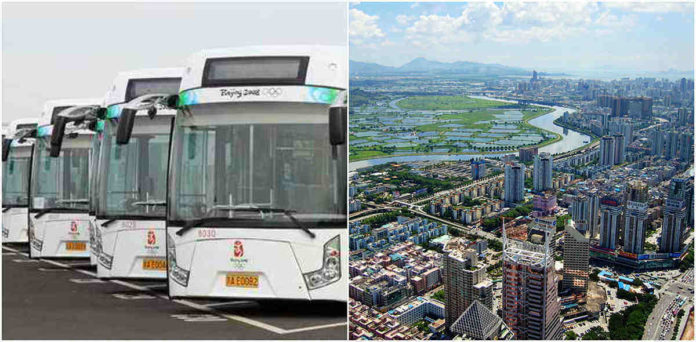 China is really pushing towards ZEV future. The country is the biggest market for cars in general, and with mandatory quotas, it is forcing traditional carmakers to sell more electric cars every year. Now, it also has the first city which will use only electric buses for public transportation.
The central government has also recently banned the sale of some 553 fossil-fuel passenger cars in the country.
As Shenzhen Daily, an English-language paper in the city wrote, Shenzhen is the first city in the world to have only all-electric bus fleet in the world. The city is located just north of Hong Kong and has a population of 11,91 million. The electric buses use 72,9 % less energy than diesel buses. In a year, the buses could save the energy equivalent of 366,000 tons of standard coal, replacing 345,000 tons of fuel, and reducing carbon dioxide emissions by 1.35 million tons.
The local government of Shenzhen had invested hundreds of millions to purchase a variety of different electric buses and charging stations.
With 16 359 buses, it is the largest electric bus fleet in the world. It also has the largest fleet of electric taxis, with 12 518 electric vehicles, which account for 62,5 % of the overall fleet.
According to Architectural Digest, electric buses will save an estimated 345,000 tons of fuel each year, ultimately reducing CO2 emissions by about 1.35 million tons annually.
"We will gradually replace the existing fuel-powered cabs with electricity-powered ones and complete the target by 2020, or even ahead of schedule," said Zheng Jingyu, head of the public transport department of the city's public transport administration bureau.
In order to push for a massive fleet of electric buses, the city has installed 501 bus charging stations and 8000 charging poles around the city and in bus stations.
"Since the replacement, the Quinhu Bus Terminal has become quiet, even as the e-buses are entering and exiting the terminal," said Guan Anguang, assistant manager of the terminal.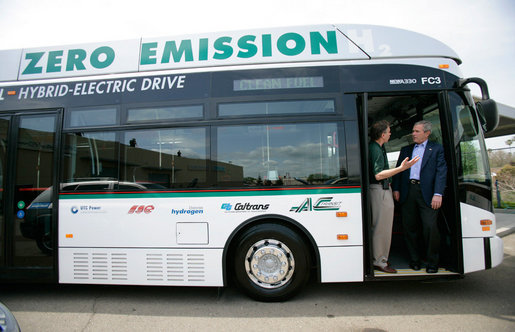 source of image:georgewbush-whitehouse.archives.gov
source of featured image: Collage: wikimedia.org
Author: Ing. Petr Štěpánek, Chief Editor, Future Media Production, s.r.o.