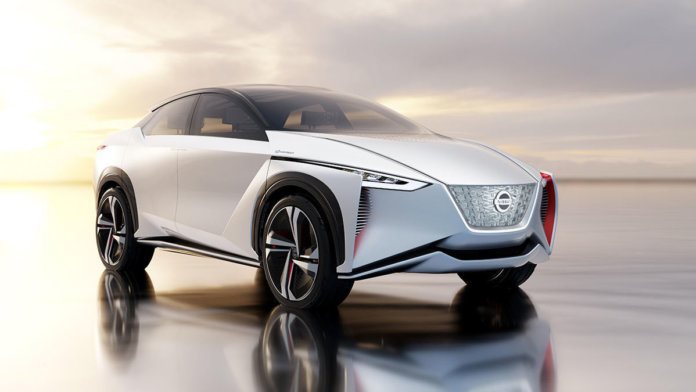 After 2018 Leaf, Nissan has prepared a spectacular new electric car for the domestic Tokyo Motor Show. The company showed a concept electric car, which will be more powerful than its symbolic GT-R sportscar. The electric car, called IMx, is planned to get into production after 2020 and share the platform with partners Renault SA and Mitsubishi Motors Corp.
As Designboom reports, the new concept electric car will be the most powerful car of Nissan, having a torque of 700 Newton meters, which is 64 Nm more than GT-R's 637 Nm.
The company has also shared the specifications of IMx. As CNET reports, the electric car will be able to drive 600 kilometres on a single charge, which is 50 % more than the new 2018 Nissan Leaf. It will be a crossover with the two-motor layout and a four-wheel drive system. It will have a large, flat battery pack and will be the first model which will be produced on a common EV platform across the partnership with Mitsubishi and Renault.
As Bloomberg reports, as for the functions, the car will have 360-degree sensors to enable full autonomous driving, emotion-sensing and eye-gazing technologies, plus, wireless charging. Nissan says that IMx would gleam in blue colour when the autonomous drive mode is enabled, in order to notify other vehicles that the electric car is driving by itself.
The price has not been specified yet.
It is clear, that the new IMx will fall into a more luxurious category, and won't cannibalize with 2018 Nissan Leaf, which is meant to be an affordable, mass-market car for the wider public.
Nissan is not the only one, who is preparing new interesting electric cars. His competitor, Toyota, the most valuable car brand in the world, is set to unveil a concept fuel-cell car that is targeting a 1000-kilometer radius.
source of featured image: Nissan
Author: Ing. Petr Štěpánek, Chief Editor, Future Media Production, s.r.o.