I.D. hatchback will go to most of the world, while the USA will be the first to get the I.D. Crozz crossover.
After the famous Dieselgate scandal, Volkswagen has decided to improve their PR by introducing a new family of electric cars. The I.D. class is noticeable mainly because of its very futuristic design. But the future is not so far away now.
As Autocar wrote, the Volkswagen ID hatchback will start production in November 2019, as Volkswagen announced on MEB Supplier Summit, which was exactly 100 weeks from the date of start of production.
As seen on first sight, new electric cars have a very different design from today's existing models, even from the already existing e-Golf. Main elements include largely unadorned front end, ultra-short front overhang, steeply rising bonnet line, heavily raked windscreen, large wheel houses housing 20-inch wheels, prominent sill elements, cantilever style rear doors, an extended roofline, prominent rear spoiler element and glass tailgate
Designed in Wolfsburg, Germany, the ID family represents a highly contemporary appearance that is claimed to set the tone for all of the company's new electric cars. Klaus Bischoff, the head of Volkswagen brand design, commented on the design process:
"We had the unique chance to lead Volkswagen into a new age. Electric drive provides greater freedom for designers. We minimize the cooling holes; the axes move further apart and generate stunning proportions."
I.D. hatchback is planned for sale in Europe from 2020 for "an attractive price", as Volkswagen officials stated. It should have a range from 249 to 373 miles (400-600 km) and an electric motor with 168 horsepower.
So far, there is not much information about the charging system. The company claims that battery can be recharged to 80 % in less than 30 minutes. There's a speculation that Volkswagen is thinking about using an 800-volt system, which is similar to one's Porsche Mission E will use. Because Volkswagen owns Porsche, the integration between the systems should be easier.
As for the current information we have, it looks like a decent electric car. The range and charging time are pretty good, the only thing bothering us might be the design. See, to compare with Tesla, you wouldn't know it is an electric car because it has the modern design of any other ICE car.
However, Volkswagen has decided to go for the futuristic design, which isn't very common on the market and looks a little bit geeky. The thing is, are the consumers ready for this design? Because fairly speaking, people don't buy the cars only because of their specs, they buy how they look and how they appear. Well, let's wait and see.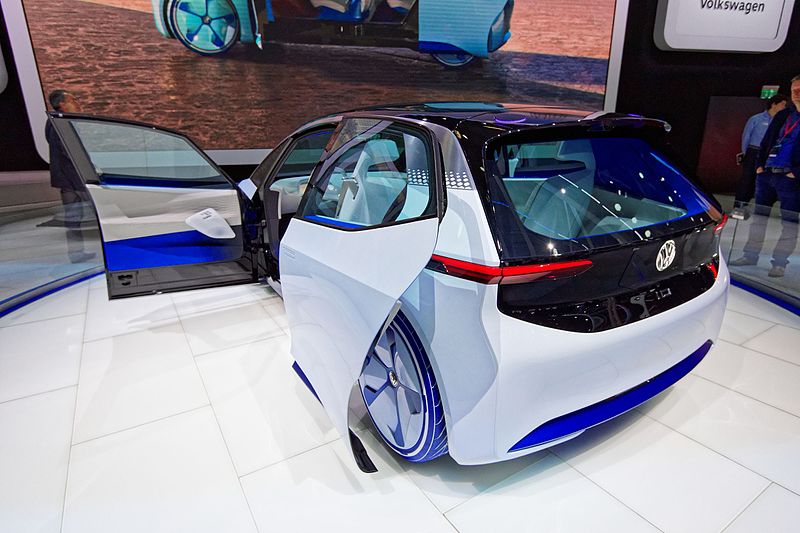 source of image: wikimedia.org
source of featured image: wikimedia.org
Author: Ing. Petr Štěpánek, Chief Editor, Future Media Production, s.r.o.